20GT FRP Diesel-electric Catamaran Passenger Boat
20 GT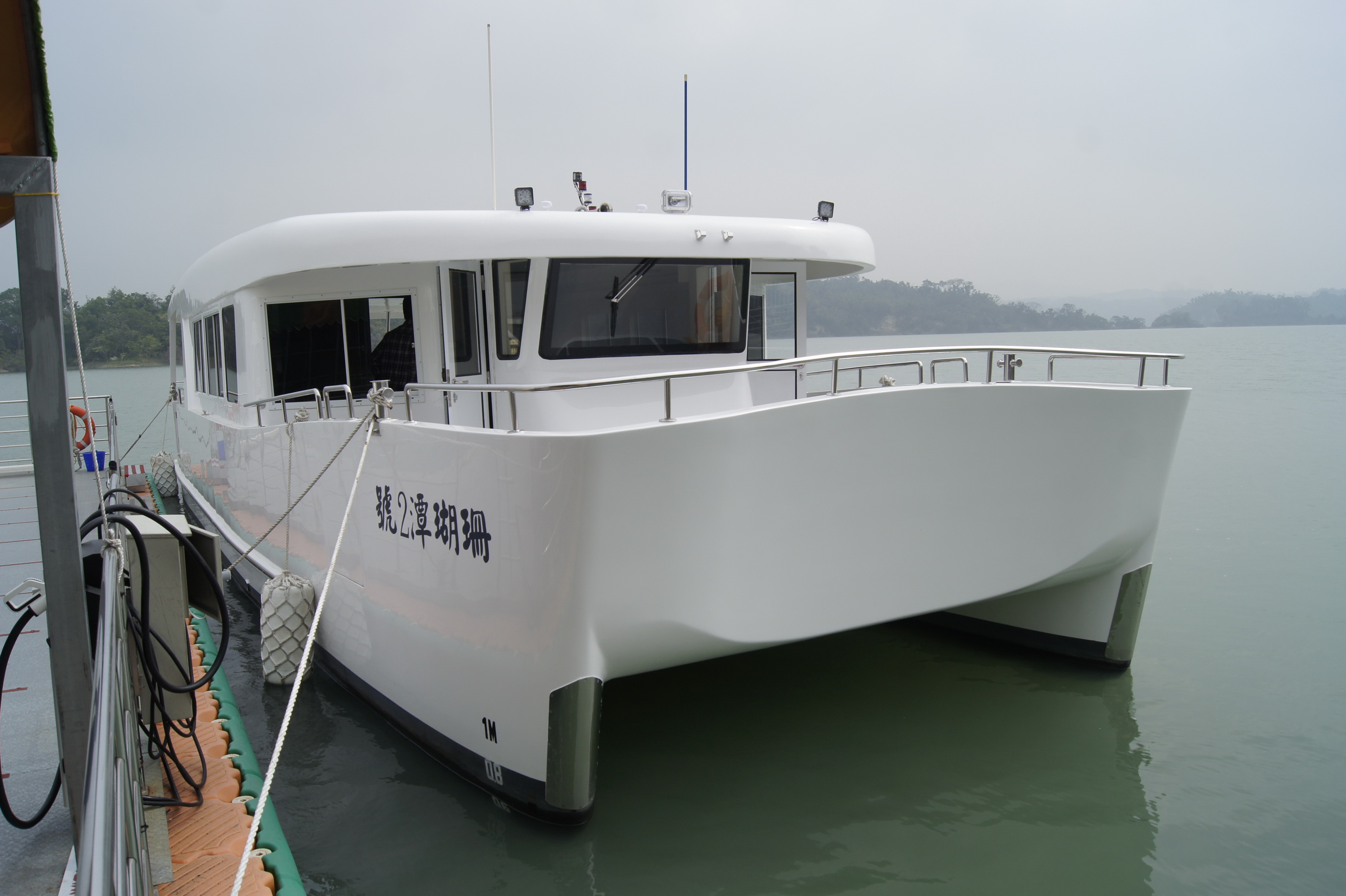 A new generation of 20-ton oil and electricity mixed, solar electric passenger ship "Coral Lake NO.2".
The Coral Lake No.2 for owner of the Wusanto Huching Resort Hotel to my company order. It is the captain of 15 meters, 5 meters wide double passenger ship, from design, open mode to the scheduled delivery date only less than 5 months. For my company planning and design of a new generation of electric boats.

The ship for the hybrid system, using two 37kw motor to promote, with high-performance lithium iron battery. There is a shore charge mode and with 16 solar panels (a total of 4kw) auxiliary charge, and by the three environmentally friendly diesel generator extended range of charging. In addition to providing visitors with a comfortable and comfortable space outside the environmental protection and environmental protection functions, but also for the beautiful environment to retain the original style, to provide visitors with different views of the Wushantou reservoir scenery.
Principal Dimension
| | |
| --- | --- |
| Material | Fibre glass |
| Length | Over all 15.20 M |
| Lenth of Ship | 14.30 M |
| Breadth of Vessel | 5.0 M |
| Depth of Vessel | 1.40 M |
| Draft of Vessel | 0.75 M |
| Fuel Oil Cap. | 0.32 M^3 |
| Fresh Water Cap. | 0.2 M^3 |
| Main Engine Power | 75KW |
| Aux. Engine Power | 20 KW |
| Speed | 11 Kts |
| Passenger | 48P |
Photo Gallery
Press Release
Hybrid ferry

The ship is equipped with two 150KW electric systems and two 65KW diesel generators. It can carry more than 140 passengers and 60 motorcycles and bicycles. The cruising speed can reach 6 hours...

Read More

48 ft sea fishing boat

In order to promote the promotion of marine leisure activities, the ship is designed for those with limited budget. Although it is an entry-level model, the relevant configuration can meet...

Read More

Ultra-low temperature tuna longline fishing boat

This type of fishing vessel has a tonnage of 230 tons and 350 tons. The fish tank temperature reaches minus 60 degrees Celsius, which allows the quality of the fish to be well maintained....

Read More