49GT FRP Catamaran Passenger Boat
49 GT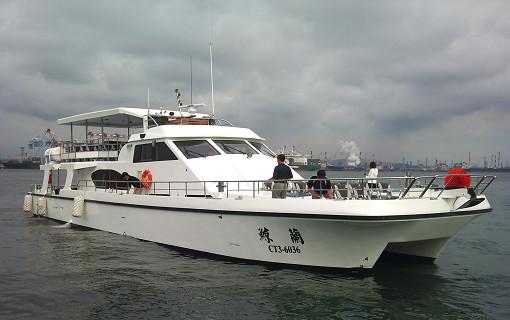 The ship's hull adopts double hull and streamline design, and the hull itself enhances its flatness, making it more comfortable for passengers to walk on board, as well as to ride comfortably.
There are due to the sea there are back. High tide ... and other factors. For the children, the elderly can be both safe and comfortable when boarding the ship, especially at the ship's embarkation board to do the most humane ... Activity handrail design! Bow is loved to stimulate the design of young friends VIP seat, its to satisfy winding and waving, in person to experience the sea cry for you.

The twin-engine 1500 horsepower, anti-collision cabin design, the sea sailing speed of up to 23 nautical miles, the speed is about twice as fast than the average marine entertainment ship. The ship has a submarine detectors can accurately detect the location of whales and dolphins, while also hiring a professional tracking boat to inform the location of cetaceans, reduce not to see them regret. And whales and dolphins encounter an average of up to 90% chance. All facilities are in line with the Ministry of the passenger ship inspectorate approach, safe and lawful, take the number of 100 passengers.

Due to the twin engine plus a flat hull, so that the stability of the boat to enhance the time, so more able to withstand waves slap, reduce the chance of seasickness tourists, relative, the security improved a lot. With offshore and global radio communications equipment, to ensure smooth communication. The radar can guarantee the ship in poor weather conditions of navigation under the security. GPS locator and automatic navigation system can make the route of navigation is not bad.
Principal Dimension
| | |
| --- | --- |
| Material | Fibre glass |
| Length | Over all 23.80 M |
| Lenth of Ship | 20.80 M |
| Breadth of Vessel | 6.60 M |
| Depth of Vessel | 1.80 M |
| Draft of Vessel | 1.09 M |
| Fuel Oil Cap. | 5 M^3 |
| Fresh water capacity | 2 M^3 |
| Main Engine Power | 900 HP |
| Aux. Engine Power | 112 HP |
| Speed | 18 Kts |
| Passenger | 94 P |
Photo Gallery
Press Release
Hybrid ferry

The ship is equipped with two 150KW electric systems and two 65KW diesel generators. It can carry more than 140 passengers and 60 motorcycles and bicycles. The cruising speed can reach 6 hours...

Read More

48 ft sea fishing boat

In order to promote the promotion of marine leisure activities, the ship is designed for those with limited budget. Although it is an entry-level model, the relevant configuration can meet...

Read More

Ultra-low temperature tuna longline fishing boat

This type of fishing vessel has a tonnage of 230 tons and 350 tons. The fish tank temperature reaches minus 60 degrees Celsius, which allows the quality of the fish to be well maintained....

Read More