230GT Tuna Long Liner Boat
230 GT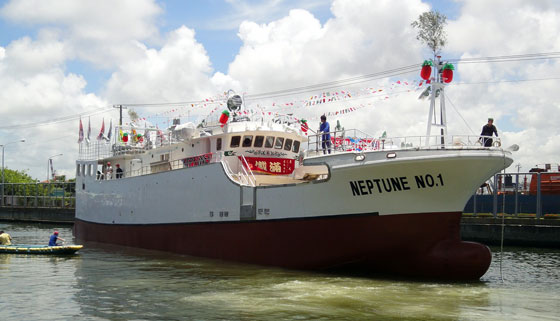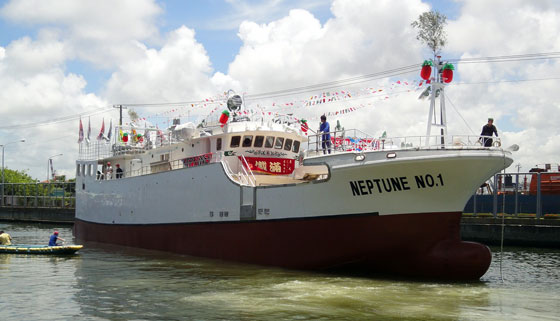 The ship is a medium tuna longline vessel, loaded with fuel operating days for about 90 days. Its operations there are two kinds of patterns, one when oil will run out, or load full fish need to enter the harbor unloading fish and supplies. The another way for fishing at sea cargo reproduced and from the transport ship supplies of food, fuel and bait.
The main species of tuna fishing operations fish, sharks and flag fish. Which are of large deep-sea fish so the jobs are in the offshore fishing areas farther away. General when ship departure after 3 to 5 days to start operations. The ship is medium boat and it equipped with Radar, Fish Finder machine, SSB, VHF, EPIRB, GPS, Depth Sounder, SART, Sonar, Navigation and other advanced equipment. The ship is equipped with three freezer two VZ42BMT45M and one VZ62BMT60M, with 50 degrees below zero freezing capacity to ensure freshness and fisheries goods. The main engine is YANMAR its horsepower 1138HP. It has two auxiliary engines horsepower each 300KVA.

In accordance with the International Association of hull boat class manufacturing regulations. So excellent anti-wave performance even in eight jobs over the storm, the ship still has sufficient stability to allow the crews to work on boat.
The ship using USA type of line-hauler machines and automatic throwing rope machines. Except with one pre-cooling warehouse it has three freezing compartment (-55 °C) , full-fishing boat has 10 cabins that can accommodate fishing goods 140 tons when fully loaded. The engine room is quite broad facilitate staff working in the nacelle; machinery and equipment also can be more regularly placed so that the entire space looks neat and comfortable. Crew room has 24 beds and air-conditioning unit. The beds amount depending on the number of crew can set up to 24 units.
Principal Dimension
Material
Fiberglass
Overall Length
36.00 M
Lenth of Ship
32.50 M
Breadth of Vessel
6.80 M
Depth of Vessel
2.75 M
Draft of Vessel
2.34 M
Fishhold Cap.
237 M^3
Fuel Oil Cap.
55 M^3
Fresh Water Cap.
16 M^3
Main Engine Power
1138 HP
Aux. Engine Power
600 KVA
Speed
11.5 KN
Photo Gallery
Press Release
Hybrid ferry

The ship is equipped with two 150KW electric systems and two 65KW diesel generators. It can carry more than 140 passengers and 60 motorcycles and bicycles. The cruising speed can reach 6 hours...

Read More

48 ft sea fishing boat

In order to promote the promotion of marine leisure activities, the ship is designed for those with limited budget. Although it is an entry-level model, the relevant configuration can meet...

Read More

Ultra-low temperature tuna longline fishing boat

This type of fishing vessel has a tonnage of 230 tons and 350 tons. The fish tank temperature reaches minus 60 degrees Celsius, which allows the quality of the fish to be well maintained....

Read More