100GT Torch Fishing Boat
100 GT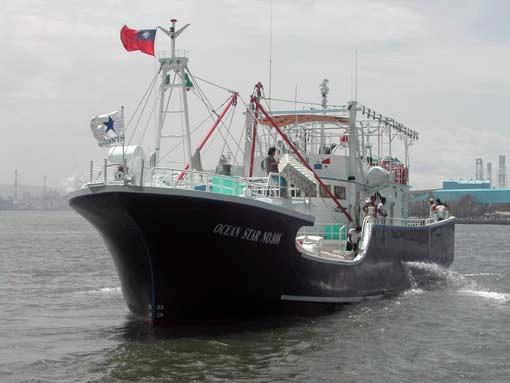 The Torch light net boats in Taiwan belong along the coastal fishing vessels. Their practices for the use of lamps will be attracted fish to the boat two sides. The main fishing fish such as Neritic Squid°, white octopus, mackerel, skinned fish .
The main job for the island and the surrounding fishing areas, so the hull is usually not large. The number of days each time jobs ranging from several days to several tens of days. Because reduced in recent years due to the volume of fishing. In order to have sufficient economic efficiency that boat body there are more big trend. The100-tons ship is already Torch light net large boat. Owner built this size are usually in order to participate in fisheries cooperation abroad or with their own fleet to catch small fish for the fleet other jobs boat as bait purposes.

The boat with a network of radar, fish finder machine, SSB, VHF, EPIRB, GPS, Depth sounder, SART, Sonar, Navigation and other advanced equipment. The ship is equipped with two freezer 5H-120, with 30 degrees below zero freezing capacity to ensure freshness and fisheries goods. The main engine is MITSUBINSHI S6R2-MTK its horsepower 800PS and it has two auxiliary horsepower each 305KW.

In accordance with the International Association of hull boat class manufacturing regulations. So excellent anti-wave performance even in eight jobs over the storm, the ship still has sufficient stability to allow the crews to work on boat. The ship sets a electric hydraulic twisted machine on deck . The ship is also equipped with a small boat. Its mainly after another into the net by staff prevent the net is not tight enough fish escaping from the net. When works for a long time in order to prevent the network from the twisted machine load to much. So sets a electric hydraulic boom to assistance picked up fish from the sea and assistance net into sea from deck.
Principal Dimension
| | |
| --- | --- |
| Material | Fibre glass |
| Length | Over all 26.8 M |
| Lenth of Ship | 20.8 M |
| Breadth of Vessel | 6.60 M |
| Depth of Vessel | 2.30 M |
| Draft of Vessel | 1.9 M |
| Fishhold Cap. | 120 M^3 |
| Fuel Oil Cap. | 75 M^3 |
| Fresh Water Cap. | 3 M^3 |
| Main Engine Power | 800 HP |
| Aux. Engine Power | 574 HP |
| Speed | 12 Kts |
Photo Gallery
Press Release
Hybrid ferry

The ship is equipped with two 150KW electric systems and two 65KW diesel generators. It can carry more than 140 passengers and 60 motorcycles and bicycles. The cruising speed can reach 6 hours...

Read More

48 ft sea fishing boat

In order to promote the promotion of marine leisure activities, the ship is designed for those with limited budget. Although it is an entry-level model, the relevant configuration can meet...

Read More

Ultra-low temperature tuna longline fishing boat

This type of fishing vessel has a tonnage of 230 tons and 350 tons. The fish tank temperature reaches minus 60 degrees Celsius, which allows the quality of the fish to be well maintained....

Read More